Events by Rosa Maria Lamberti
Babbo Natale Invasion on Lake Como

Cari amici, dear Lake Como friends, it's that time of the year again!
The invasion of the Santas will reach Lake Como. On the 10th of December it's the 7th time that the Babbo Running takes place in Como.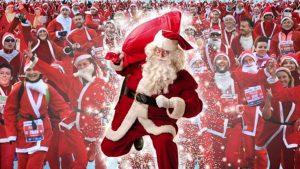 By now the number of participants at this funny and colorful event exceeds all expectations. Fans of all ages dress up as Babbo Natale and take part in the 5 km long march of the Santas emanating joy among the spectators. This year's Babbo Running is supported by Fabbrica del Sorriso.
Join in for a Good Cause
As always, Santa Claus thinks especially of the children at this event. Five Euro of each participation fee goes to prevention and treatment projects against cancer with children.
Participation fee and Program
The participation fee for the Babbo Running is 20,00 € for adults and 6,00 € for children. For this you will receive an official Santa Claus costume, a sack, gadgets, a refreshment and, if necessary, medical care.
You can register directly in the Babbo Running Village before the race on 10th of December, or via Internet and also at the official registration offices. More information can be found here.
Start and finish is the Babbo Running Village on Piazza Guiseppe Verdi at the Teatro Sociale.
Program Timing:
H 11.00 Registration for the Babbo Running

H 14.00 Opening of the Babbo Running Village with guests and performances.

H 14.30 Warm up

H 15.00 Start of the Babbo Running

H 16.00 Cool down – stretching

H 16.15 Prices and gifts

H 17:00 End of the event
Allora, cari amici, get your running shoes and join in!
I 'm game and wish all participants and spectators lots of fun.
Tanti saluti e a presto
Rosa Maria Lamberti