Entertainment by Rosa Maria Lamberti
Even in Winter: Relax on Lake Como

Ciao amici, dear Lake Como friends! Winter is not over yet.
We have still quite icy temperatures in our latitudes but also on Lake Como you may have lower temperatures.
Nevertheless, I can recommend the Lario also as a holiday destination in the cooler months of the year.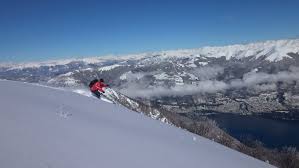 Of course it is too cold than for most of water sports. Instead you can go skiing in the Gringe mountains or on Monte San Primo near Bellagio.
Besides you can enjoy hikes and excursions which are less exhausting than in the summer heat.
Holiday feeling in Every Time of the Year
You know, amici: Lake Como, that means wonderful holidays in a dreamlike landscape at romantic holiday resorts.
You can expect breathtaking panoramas, a pleasant climate and cuddly holiday accommodations in every season, such as the Villa Sweet Home in Colico.
So, if the weather should really let you down, make yourself comfortable in your beautiful holiday home.
E-books and Hot Amaretto Drinks
For relaxed and comfortable evenings in your Lake Como holiday home, I have the appropriate reading for you:
Interesting information, tips and stories from the east bank of Lake Como can be found in my e-book Comer See Reisehäppchen.
The Lake Como short crime Tödliches Saisonende, which is also available as an e-book, provides suspense.
An exciting adventure on Lake Como for your kids offers 3×4 Pfötchen und das Netz der weißen Spinne. This one is available as paperback and as e-book. You get all books only in German language.
Hot Chocolate with Amaretto
On cooler evenings, a hot drink increases your feeling good. No, I do not mean mulled wine or grog.
The Italian drink hot Amaretto with cream to warm themselves up or hot chocolate with Amaretto, my absolute favorite drink.
You have to taste it! Find the preparation here. Allorah, prendiamo un aperitivo!
The kids enjoy hot chocolate with cream but, of course, without Amaretto.
Cultural Landscape Lake Como
Culture is not missed out during the cooler months on the Lario. In Como, Gravedona, Menaggio and many other places around the lake are held various events and the Milan Scala is not far away.
For more information, please contact the tourist offices. Very often you find corresponding placards in the villages.
Have a comfortable and relaxing time on Lake Como.
Tanti saluti e a presto
Rosa Maria Lamberti