"Amici del Plinio" on Lake Como
Tradition by Marion Mollenhauer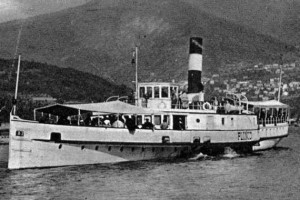 We were always impressed by the nostalgic ships on the Lake of Como as, for example the "Milano". They match much better with the flair of the traditionally towns, villages and villas than the modern, factual and unromantic speedboats.
So we were very pleased, when we knew of the cultural association "Amici del Plinio". The ambition of this association is the uplifting of the paddle steamer "Plinio", which was built in 1902 in Zurich and sunk  on 8th of December 2010 on the Lake of Mezzola.
The ship shall be restored and become a museum-ship, maybe on the water or in a dry dock, and lead the visitors back in times to its genesis. The proud ship was able to carry 750 persons had an impressive  paddle-box,  a slim and  high chimney and an oak and mahogany paneled saloon, whose ground floor lay underneath the waterline.
The "Plinio" would become a worth seeing and dignified cultural monument. The paddle steamer started his service in 1903. It was one of the fastest vessels on the Lake of Como and would also belong today to the quickest conventional ships.
In May 1927  the "Plinio" escorted together with the steamboat "28 Ottobre" the Italian king Victor Emanuell III., who enjoyed a cruise with the "Savoia" on the Lake of Como.
During 60 years of service there were also dangerous moments and some tragically accidents . In 1963 the proud ship was retired and after lain useless for 10 years in the harbor of Como, it was sold to a gastronome in Colico.

There it was diverted from its intended use had to be a pub, a restaurant, an ice cream parlor and also a wave-breaker. In the year 1999 the steam paddler was trailed through the river "Mera" to the Lake of Mezzola where it should be again a restaurant.
On 8th of December 2010,  the ropes unsnapped in a windstorm and the once so proud ship sunk in the floods of the Lake of Mezzola.  At the "Amici of Plinio" you'll find interesting further particulars and videos from dives to the sunken "Plinio" here!