Crime/Travelinformation by Rosa Maria Lamberti
November Blues? Not on Lake Como!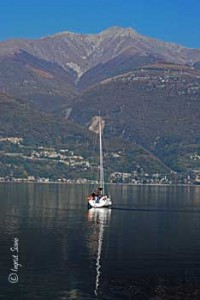 Ciao amici! You know: Romance, suspense, adventure, regeneration, lovely views, breathtaking panorama – all that and even more offers the Lake of Como. And this offer applies for all seasons, also in November when in our lines of latitude everything sinks in thick gray fog. Also in the fall and winter months temperatures during the day can be pleasant on Lake Como. In autumn and winter the areas around the Lago change into quiet surroundings. At cooler temperatures walks and excursions aren't as exhausting as in the summer heat. Another interesting point is the fact that holiday homes are much cheaper now.
Of course culture will not be missed in the winter season on Lake Como. You can visit operas in the Teatro Sociale in Como and in the nearby famous Milan Scala. If you are a concertgoer you will be excited by the events at Villa Olmo in Como, at Palazzo Gallio in Gravedona or at Villa Camilla in Domaso.
But if you prefer peaceful, restful evenings at the cuddly chimney of your holiday home I recommend you a reading, suitable to the season and the location: the enthralling short crime e-book "Tödliches Saisonende" (Deadly End of the Season).
Thrilling reading material for your kids offers the Lake Como adventure "3×4 Pfötchen und das Netz der weißen Spinne", (3×4 Paws and the Net of the White Spider) available as e-book and as paperback.
Tanti saluti e a presto
Rosa Maria Lamberti