Recipes by Rosa Maria Lamberti
Rosa Marias Chestnut Risotto from Lake Como

Cari amici, dear Lake Como friends! Autumn with its wonderful blaze of color has arrived. To the delicious fruits now being harvested on Lake Como belongs the chestnut. Autumnally you find typical chestnut dishes on the menu of each ristorante in this region.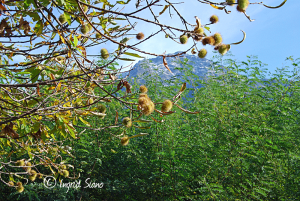 Especially for you I have picked my favorite recipe for a Lombard chestnut risotto. Cheer up! It is very easy to cook. Besides chestnuts, mushrooms, rice and other delicious ingredients you need red wine for this recipe.
My advice: don't hesitate to taste a glass of wine or two while cooking. Then your risotto-success will be guaranteed.
Buon appetito! Enjoy the delicious chestnut risotto from Lake Como.
Tanti saluti e a presto
Rosa Maria Lamberti
Ingredients for 4 persons:
300 g rice,

200 g fresh porcini or chanterelles,

300 g chestnuts, 50 g butter, 50 g bacon,

1 medium onion,

Salt, pepper, 1 bay leaf, butter (about 1 tablespoon)

1/2 glass of red wine, 1 1/2 liter of broth and fresh parmesan
Preparation:
Cut the chestnuts into quarters and boil them about 20 minutes in salted water. Then peel and chop the chestnuts
Cut the mushrooms and chop the onion into small pieces. Then cut the bacon into small cubes and fry in 50g butter.
Remove the bacon from the pan and roast gently the chopped onion, mushrooms and chestnuts in the bacon fat.
Now add the rice and fry it also for a few minutes, stirring constantly.
Pour in the red wine and season to taste with bay leaves, salt and pepper.
Add the bacon.
Gradually pour some broth until you get a soft consistency.
When the rice is all 'dente, intermix the Parmesan and butter and serve immediately!
Enjoy!