Tips/Villas by Rosa Maria Lamberti
Villa Mylius Vigoni on Lake Como

Ciao amici, many Lake Como visitors fall in love with Menaggio, a lively little town, surrounded by mountains with a wonderful promenade and old, narrow streets. The beauty of this area was also known by the Frankfurt financier and businessman Heinrich Mylius (1769-1854) who lived in Milan.

In 1829 he acquired a villa in Loveno, a district of Menaggio, high above Lake Como. The villa was a present for Mylius son Julius and his bride Luigia Vitali.
Heinrich Mylius was inspired to buy this house by the fantastic location and an enchanting view on Lake Como. He extended the villa by an additional floor and two side wings. Busts of artist and celebrities of its day were exhibited in specially created niches on the front. Indoors he created a very special atmosphere with Grisailles-paintings and valuable furniture and pictures.
Unfortunately Heinrich Mylius son Julius died shortly after his marriage.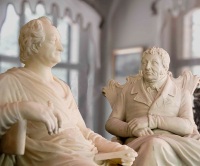 The young widow remarried to Ignazio Vigoni. Their last descendant was grandson Ignazio Vigoni junior, who died in 1983 and bequeathed the Villa Mylius Vigoni with all inventory and the spacious English park to the Federal Republic of Germany.
Today the villa is not only a memorial to the Mylius Vigoni family, but also a place for special cultural events and concerts. This year, the exhibition "Il bello, l'utile e l'onesto", Goethe and Mylius, is taking place until 16th December 2016.

Cari amici, a trip to Menaggio-Loveno to visit Villa Mylius Vigoni is highly recommended. You definitely should not miss this experience. Until the end of October, on every Thursday at 2.30 pm, you can view the entire estate and the park with its enchanting views. Please note that the Villa is closed in August.
Tanti saluti e a presto
Rosa Maria Lamberti