Villa Olmo at Lake Como

History/Villas by Marion Mollenhauer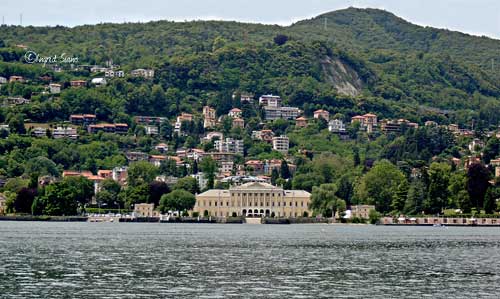 Without a doubt is Villa Olmo near Como one of the most beautiful and most important villas by the Lake of Como. The name comes from an ancient elm tree reportedly planted by Pliny the Younger.
The Villa was built from 1782-1797 in neoclassical style by Marquis Innocenzo Odescalchi, who authorized the swiss master-builders Regazzoni and Cantoni plus the sculptor Caraballi with this project.
When the Marquis died, Villa Olmo devolved in 1824 to the posession of the Raimondi family. Within the following years the villa experienced politically turbulent times and housed famous and martially personalities as Napoleon, Prince Metternich and Marshall Radetzky.
In 1848 Giorgio Raimondi had to leave Villa Olmo until 1859 because of his political attitude. Shortly afterwards the italian freedom fighter and national hero Guiseppe Gariabaldi visited Villa Olmo and married Raimondis daughter Guiseppina. In 1883 Raimondis heiresses sold the villa to Guido Visconti Modrone who does considerably conversions to the building. He established the small theater (Teatrino) where to date concerts and other events take place, and he created the english park.

In 1924 Villa Olmo was bought by the municipality of Como and in 1927, on Alessandro Voltas hundredth day of death, an exhibition was arranged. Since then the Villa  is used for all kind of events and since 1982 the "Centre Volta" is based in Villa Olmo.