Tradition by Rosa Maria Lamberti

Chestnut Season on Lake Como and a Delicious Recipe

Cari amici, dear friends of Lake Como, the autumn with its wonderful colors has arrived. Of course, also the delicious chestnuts are currently being harvested on Lake Como. In autumn you will find chestnut dishes which are typical for this region on the menu cards of every Ristorante.
The Sweet Chestnut as Food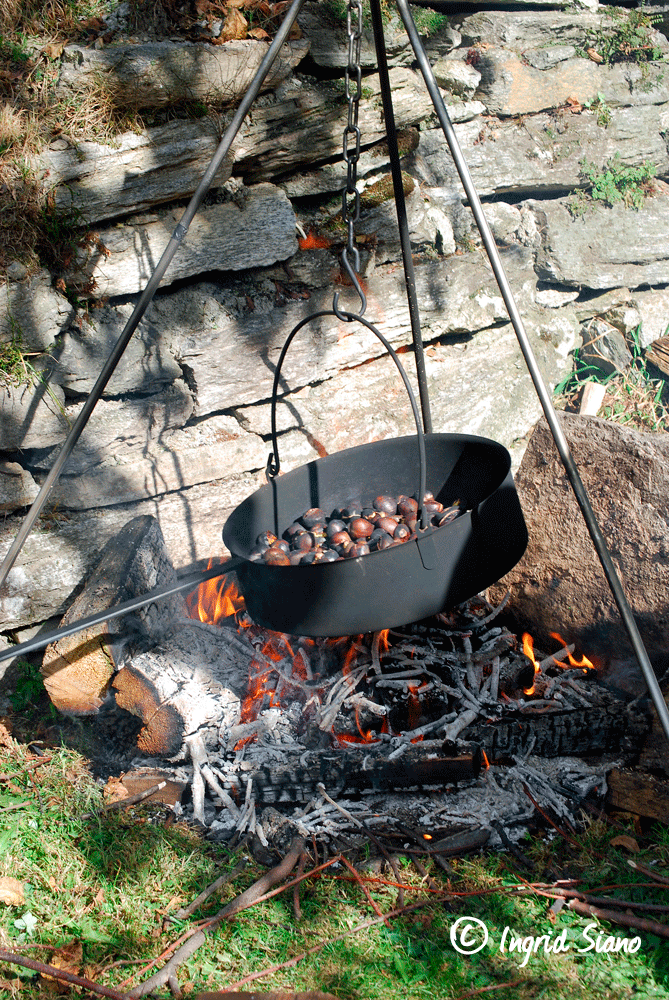 From the Middle Ages until the 18th century, the chestnut was a staple food around Lake Como and in other mountain areas. Especially in winter it provided the mostly poor population with the important carbohydrates they needed to survive.
Chestnuts were eaten raw, dried, cooked and roasted. When processed into flour, chestnut bread or sometimes even cake was made of it. Chestnuts were planted everywhere where no grain could be grown. One or two chestnut trees could feed an adult person for a whole year.
The Life and Death of the Chestnut Trees
Whoever planted a sweet chestnut tree had thus also provided for the nutrition of the following generations. Because a sweet chestnut can reach an age of about 500 years.
The oldest and largest known specimen is not on Lake Como but in Sicily. The Castagno dei Cento Cavalli – chestnut tree of the hundred horses – is said to be 2000 years old according to historical tradition.
With the beginning of industrialization and the resulting migration from the land, the decline of chestnut cultures began, also on Lake Como and in the whole of Lombardy. In addition, the chestnut forests were reduced by various diseases such as chestnut bark cancer.
Between 1910 and 1980, the chestnut population shrank by about two thirds in the whole of Italy. Since the 1990s the surviving trees have recovered and at present the number is increasing continuously.
Today the Sweet Chestnut is a Delicate Side Dish
Even today the sweet chestnut is still very popular. It is not only used for stuffing turkeys, but is also served as a side dish with all kinds of meat dishes. In winter the roasted chestnuts are especially popular. On Lake Como, a chestnut cream is very popular. It is used as a spread on bread.
A Particularly Tasty Chestnut Recipe
I have selected for you the recipe for a Lombardian chestnut risotto. It is one of my favorite recipes and easy to follow. Besides chestnuts, mushrooms, rice and other delicious ingredients, a good red wine is a must. One of the rare red wines from Lake Como is, of course, particularly true to style, for example a Domasino.
My tip: try the wine often before and during cooking. Then you are guaranteed to succeed with your risotto.
Buon appetito! Enjoy the delicious chestnut risotto from Lake Como.
Tanti saluti e a presto
Rosa Maria Lamberti