Travelinformation by Rosa Maria Lamberti
Ciao Amici del Lago di Como!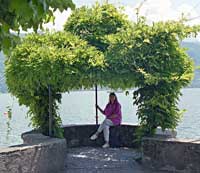 May I introduce myself? My name is Rosa Maria Lamberti and from today I will here report on my great love: the Lago di Como.
I want to start with some information about the picturesque little village Lenno on the west bank of Lake Como.
Lenno is located in a lovely cove named Golfo di Venere – Venus-Bay. It tells its own tale! This part of the west bank with its Mediterranean mild and dry climate is known as Costa della Tremezzina.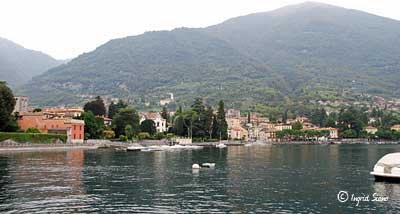 In regular time intervals boats go from Lenno across to the dreamlike and famous Villa Balbianello, favored by bridal pairs all over the world as an extraordinary and exquisite wedding location.
Some Movies and commercials were also shot there. Another place of interest is the Abbazia Di Santa Maria Della Acqua Fredda from the 12. Century, approx. 325 meters above Lenno, in the vineyards. The Abbey is named after a spring arising nearby.
Since the olden days Lenno is shrouded in Legend and I tell you the story: All visitors of Lake Como know the brightly peal of bells around the Lago. But the residents of Lenno always told about a hollow, weird bell-ringing from afar, which is particularly heard in stormy and dark nights.
The mystical, spooky sounds of the bells seem to reverberate from the deepness of Lake Como. Well, it is fact that in the 15. Century a church, situated on the bank of Lenno, was flushed into the Lake by flood waves and landslide.
Some years ago divers found steps and flagging in the Lake nearby Lenno. This confirmed the Legend of "Atlantis Lariana".
Right, I rather not pay attention to bells in stormy nights.
Tanti saluti e a presto
Rosa Maria Lamberti
P.S.: I'm looking forward to meeting yo on Facebook!