Travelinformation by Rosa Maria Lamberti
Never on Summer Sundays from Cadenabbia to Bellagio on Lake Como!

Cari amici, dear Lake Como friends. Do you know Lecco, in the very south of the eastern branch of Lake Como?
Cari amici, dear Lake Como friends! Probably many of you have made a ride on one of the Lake Como car ferries.
Normally a relaxed issue. But did you ever use the Traghetto from Cadenabbia to Bellagio on a weekend this summer?
The Adventure Started
I have ventured it. And me as well as my brand new car endured it by alchemy without a scratch. Compared to neighboring Menaggio which has a lot of room for the waiting cars, the Cadenabbia waiting area has the size of a sheet.
But if you want to go by car ferry from the west bank directly to Bellagio without landing in Varenna, you have no other chance, you must ride across the Lario from Cadenabbia. And this was, what happened to me on a sunny Sunday in summer:
The waiting zone at the "ferry station" in Cadenabbia was much too small for all the waiting cars. All the automobiles stood higgledy-piggledy, partly blockading the narrow road. The passing drivers ventured breakneck evasive maneuver.
Sometimes there is Stress, also on Lake Como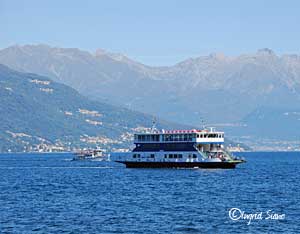 An excited uniformed officer of the Navigazione Lago di Como with a bright red face, wildly gesticulating, jumped to and fro between the cars and tried vainly to remove the unbelievable chaos. Somehow, I managed to slide with my car into a small gap.
Certainly the rear stuck out rather far on the road. Dio mio! I prayed that no bus was coming down the road now.
Fearlessly I opened the driver door and sprinted to the ticket office. When I came back, the ferry had already berthed and the employee with the red face tried to clear the way for the cars, which came from Bellagio and wanted to leave the ship. I tell you, it was really the hell for that poor man!
The Chaos Dissolves
When the last car had left the Traghetto it began: with folded outside mirrors, bumper to bumper the river of metal inched on the ship.
There the chaos was steered miraculously in the right lanes by the experienced employees of the Navigazione.
But that's for sure: In summer never on Sundays – by car ferry from Cadenabbia to Bellagio.
Tanti saluti e a presto
Rosa Maria Lamberti