Flora by Rosa Maria Lamberti
Elegant Camellias Bloom on Lake Como

Cari amici, dear Lake Como friends!
How about a long, sunny Easter weekend on Lake Como this year? In spring, the delicate, elegant blooms of the camellias show a spectacular contrast to the grand mountains around.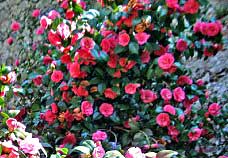 Countless camellia blossoms shine in the parks of the famous villas, in gardens and on the waterfront promenades.
Camellias grow as evergreen bushes or trees and unfold their delicate blossoms early in spring. They thrive especially well in the particular climate of Lake Como.
The Mostra delle Camelie in Gravedona
For more than 40 years on Easter Sunday and Easter Monday the Mostra delle Camelie takes place in Gravedona, at Palazzo Gallio built in 1585.
This camellia exhibition is a real treat for all flower and garden fanciers. The highlight of the exhibition is the awarding of the most beautiful varieties and plants.
The traditional camellia exhibition at Palazzo Gallio also includes an annual art exhibition of works by local artists. In addition, concerts are often held at Palazzo Gallio as part of this event.
The Story of the Camellia
Camellias belong originally to the tea bush family and were initially located mainly in East Asian countries, such as Vietnam, Nepal and China. In these countries their blossoms were and still are a symbol of harmony and friendship.
In 1739 camellias were shown in Europe for the first time in the greenhouses of Thorndon Hall in southern England. Probably missionaries or English sailors brought the camellias from Asia to England. Two contemporaneous drawings of these camellias show that they had red blossoms.
At the end of the 18th century, English landscape gardeners ensured the spread of camellias in the villa gardens on Lake Como.
The Camellia as an Artistic Inspiration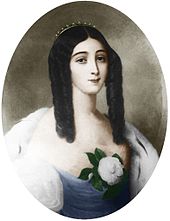 In the 19th century, the camellia became very fashionable and was immortalized by Alexandre Dumas the Younger in his novel "The Lady of the Camellias".
It was so successful that Dumas reshaped it into a stage play, premiered in Paris in 1852. From 1880, the legendary French actress Sarah Bernard celebrated great success worldwide as the Lady of the Camellias.
Giuseppe Verdi's opera "La Traviata", which premiered in 1853 in Venice based on Dumas work.
In 1936, the Lady of the Camellias was filmed by George Cukor, starring Greta Garbo and Robert Taylor.
Cari amici, by the background of the camellia you can see that even delicate little plants can make great careers.
Enjoy the wonderful springtime and the enchanting camellias on Lake Como.
Tanti saluti e a presto
Rosa Maria Lamberti