History by Rosa Maria Lamberti
Historical Tour in Colico on the Magical Lake Como

Cari amici, dear Lake Como friends! Almost everyone who visits Lake Como knows Colico, the lively town at the foot of the mighty Monte Legnone.
Because of its location, Colico is particularly popular with water sports enthusiasts, mountain bikers and mountain hikers. But very few visitors know that Colico also has an interesting and varied history.

Important Information
The main monuments and historical events have been compiled into a tourist route by the Museum of Agricultural History in collaboration with the Fondazione Cariplo in Milan, a charitable foundation.
A brochure with a detailed map, which also describes the historical significance of the individual locations, is available in the shops of Colico.
The Martial Colico
Fuerte dei Fuentes and Forte Montecchio belong to the most famous monuments in Colico. The ruins of Fuerte di Fuentes date back to the 17th century, the time of the Spanish occupation of Colico.
Forte Montecchio was built at the beginning of the 20th century to protect the town from possible invasion during the 1st World War. The heavy ordnance of the fortress were never used.
Today Forte Montecchio is the best preserved 1st World War fortress in Europ. Both fortresses can be visited.

The Historical Villatico and more
The above-mentioned tourist route will take you to the church of San Bernardino and to the mills in Villatico, a district of Colico.
These mills are the last important witnesses of a time when agriculture and its products were very important for Colico. Since the Middle Ages there have been 12 mills in Villatico, all connected by watercourses and irrigation ditches, the so called Roggias.
In the context of the European Mill Days, a total of 5 of these mills have been restored since 2017. These are the Molino Maufet, Molino Secrista, Molino Seregni, Molino Murgana and Latteria di Villatico. The Sentiero anello Molini, a well signposted linear walk, leads you to the mills which can be visited by appointment.
In the Latteria di Villatico you can buy self-produced dairy products at certain times.
From Molino Murgana you can quickly reach the old village of Fontanedo, the first settlement of Colico.
Since June 2019 it is also possible to visit the restored medieval Torre di Fontanedo. The tower was built in 1357 by Barnabò Visconti to warn the population against possible invasions.
From the top of the Torre di Fontanedo you have a breathtaking view on the landscape of Lake Como.
Taking a Rest at the Port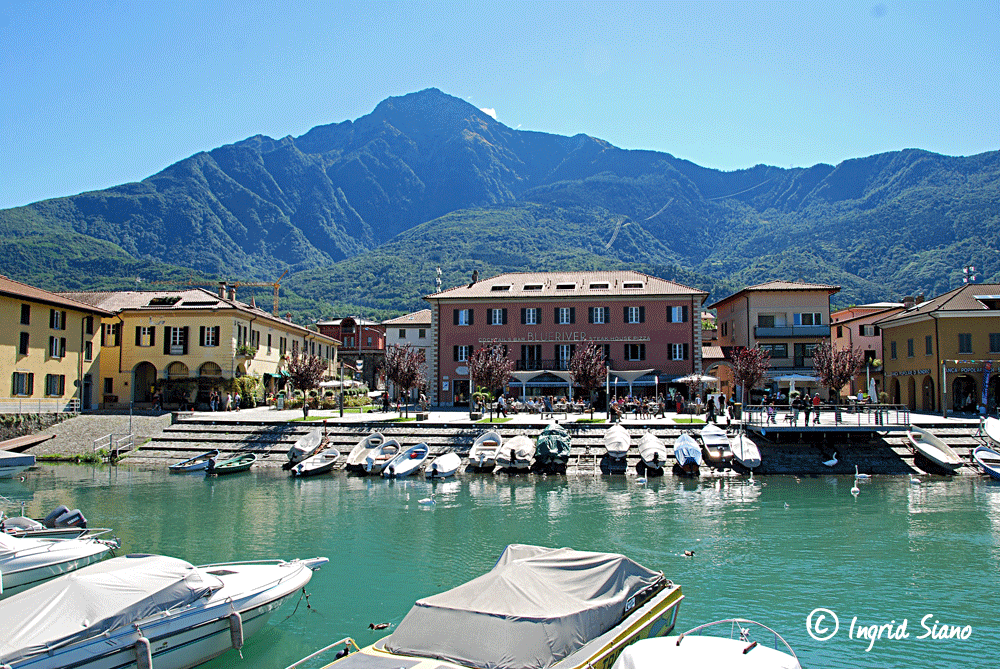 Finally, you should treat yourself to a well-deserved break in one of the nice Ristorantes at the port of Colico, which incidentally dates from the 19th century. You can also relax on the beautifully designed promenade of Colico.
Amici, I believe after you learned more about the varied history of this beautiful landscape, you'll may see it through different eyes.
Tanti saluti e a presto
Rosa Maria Lamberti