Carnival by Rosa Maria Lamberti
Only once a year is carnival – also on wonderful Lake Como

Cari amici, dear Lake Como friends, you know that Carnival is only once a year. These days are also celebrated extensively around Lake Como.
Masquerade balls, Carnival Parades and Lots of Fun
Events and carnival parades take place in many of the villages. As every year, Lecco celebrates the carnival with two events full of fun, confetti, floats, masks and many surprises.
On Sunday, 23. February 2020 and Saturday, 29. February 2020, from 2.30 p.m. to midnight, you can get involved into the carnival hustle and bustle.
But also on the west shore of Lake Como it gets funny:
On Saturday, 22. February 2020 at 2.30 pm your children can join into the Carnevale dei Bambini in Menaggio on Piazza Garibaldi  with lots of fun for the little ones.

On Sunday, 23. February 2020 at 2.00 p.m. the carnival procession starts from Parco dell'Assilo to Piazza Garibaldi.
A carnival party will be held in the Ossuccio civic hall on Tuesday, 25. February 2020 at 2.00 p.m. The entrance is free.
You can enjoy music and dance, baby dance and delicious snacks. Lottery tickets are also on offer. The proceeds will go to the Ossuccio Kindergarten.
The Somehow Different Carnival in Schignano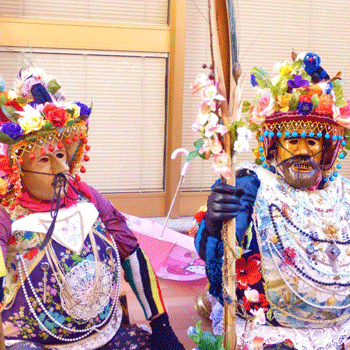 Carnival is celebrated in an unusual way in the picturesque village of Schignano above Argegno on Lake Como.
The participants of the carnival parade wear artistic, hand-carved masks made of walnut wood. Some of these masks are over 200 years old.
The masks and figures have different meanings. There are the friendly looking masks, called the Beauties (belli), in splendid, colourful clothes and with cheerful ringing bells. In contrast, the ugly (brutti) stand in shabby clothes, ugly masks and with clattering cowbells.
On Saturday, 22. February 2020 at a quarter to 2.00 pm, the historical carnival parade begins on the Piazza of Schignano.
In addition, a brass band will accompany the dancing masks in the picturesque streets of Schignano.
On 25. February 2020 the grand finale will take place, with a big parade, the escape of Carlisep and a masked ball. This kind of carnival is unusual but very worth seeing.
I will definitely be there. But I don't know if you recognize me. My tip: I definitely belong to the belli!
Carnival in the Brianza
Of course I will not miss the opportunity to draw your attention to the Carnevale di Cantù in the Brianza, near Como.
The biggest carnival processions in the region will take place there on 23. February and 29. February 2020 at 2.30 p.m. through the centre of Cantù.
On 29. February 2020 the winning carnival float of these parades will be awarded. For further information and the program click here.
You see amici, there is a lot going on around Lake Como during the carnival season.
Delicious Pastries for the Carnival Party at Home
Last but not least I have a tip for your private carnival party. Your guests will certainly enjoy the delicious traditional carnival pastry Chiacchiere.
Freely interpreted Chiacchiere means gossip or small talk. I think it goes well with the carnival coffee -klatsch, which certainly involves a lot of gossip. You can find this and other delicious recipes here.
Allora, amici, lets plunge into the foolish hustle and bustle.
Buon divertimento!
Rosa Maria Lamberti