Events by Rosa Maria Lamberti
Pesa Vegia in Bellano on Lake Como

Cari amici, dear Lake Como friends!
I hope you had a good start into the New Year. And did you survive the consequences of New Year's Eve?
Then you can plunge into the bustle again on the of January 5, 2018. That's when the Pesa Vegia Festival takes place in Bellano on the eastern shore of Lake Como.
Succesful Resistance 400 Years Ago
The festival originates from an occasion over 400 years ago. Read the following legend: in the year1605 new weights were prescribed by the Spanish occupation.
But the brave craftsmen and merchants from Bellano did not want to accept this arbitrary conversion of their traditional units of measure, the "Pesa Vegia".
So they defended themselves against the new rule and sent a delegation to Como to inform the Spanish governor about this request.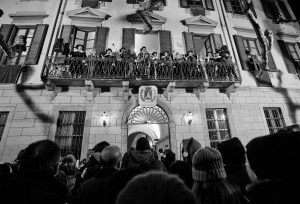 After tough negotiations, the envoys succeeded unexpectedly.
The old weights could be used furthermore.
In the late evening of of January 5, the delegation returned from Como by boat and brought the good news to the inhabitants of Bellano.
This successful resistance is still celebrated every year on January 5, with a colorful procession in historical costumes.
In addition a nativity scene is performed, the three Magi ride on their camels through the city distributing sweets, there is a big campfire at the harbor and of course the obligatory fireworks.
Program:
Friday, January 05, 2018
2.30 pm: Oasis of the Magi at the pier

4.00 pm: Nativity play

9.30 pm: Procession with the weights and the scales through the streets of Bellano

10.00 pm: Arrival at the pier

10:15 pm: Arrival of the boat from Como

10.30 pm: Promulgation of the decree at the town hall and fireworks

11.00 pm: Procession of the Magi on their camels

12.00 pm: Inflammation of the campfire at the pier
Sunday, January 7, 2018
From 4.30 pm: 

Welcome by the "governor" at the town hall with mulled wine and hot tea

Departure by boat to Como

Fireworks
Allora, amici, dive into the crowd! You find here a little preview oft he event.
My tip: Take a boat to Bellano or use the bus shuttle from Dervio. Parking is very limited.
Have a nice time!
Tanti saluti e a presto
Rosa Maria Lamberti