Events by Rosa Maria Lamberti
The witch Befana flies on her broom to Lake Como

Cari amici, dear Lake Como friends! I hope we all had a wonderful Christmas and a good start into the New Year.
Nevertheless, there is one more event, impatiently awaited by the children of Lake Como and the rest of Italy: the Feast of Witch Befana. Read the story from this extraordinary which.
Befanas Arrival on Lake Como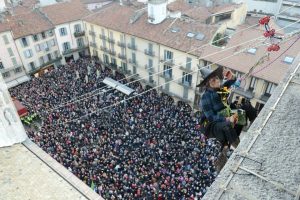 In the morning of January 6th, 2020 (Epiphany), Befana flies with her broom over the country and visits the children's stations in several hospitals of the region.
On time at 3 pm, you will be able to experience Befana's spectacular landing on the roofs of Piazza Duomo in Como.
Since the witch is not a spring chicken, the fire brigade of the City of Como will help her. Afterwards, Befana distributed gifts and sweets to the children at the Broletto.
Goodbye to the Christmas Lights
The arrival of witch Befana means also the end of the Christmas season on Lake Como. The Christmas market, Como Magic Light Festival and Città dei Balocchi say goodbye. However, don't be sad, cari amici. At the end of the year, everything starts again.
Until that time, we should look forward to many sunny days on our wonderful Lake Como.
Tanti saluti e a presto
Rosa Maria Lamberti