Culture by Rosa Maria Lamberti
Lake Como – a Magic Place for Poets and Philosophers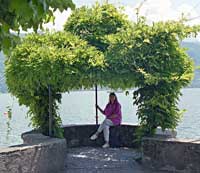 Cari amici del Lago di Como! I'm sure you're that way too. The breathtaking landscape of Lake Como, the picturesque riparian villages, the elegant villas, the mediterranean climate and the wonderful gardens are magical and exert a pull. Anybody who was here wants to come back and for those, who don't have this opportunity the Lago will always be a place for yearning. This magic inspired at all times artists, poets and philosophers. After a visit at Lake Como Stendhal narrated the wild romantic scenery in his novel "La certosa di Parma". Franz Liszt spent sunshiny months in Bellagio, together with his truelove, the countess Marie d'Agoult. Inspired by this special place he began to compose again. The novelist Flaubert was overwhelmed and describes Lake Como as "a Shakespeare-scenery".

Manzoni wrote his famous novel "I Promessi Sposi". The plot is set preponderant on Lake Como. Even Sir Winston Churchill, who stayed in Moltrasio in September 1945 to recover, was enchanted by the landscape. He sat for hours on the lakeside, in front of his easel and painted.
Konrad Adenauer as well was affected by the magic of Lake Como. Ever and anon he came back and holidayed at Villa Collina in Cadenabbia. There he met more celebrities of his time, for example Kokoschka who portrayed him, and Golo Mann who discussed with him politics and literature. The Konrad Adenauer Foundation assistes to date with writer-workshops and writer-meetings the manifold culturally demand of this magical landscape.
Right, amici, let the magic also act on you. Who knows, what talents will appear?
Tanti saluti e a presto
Rosa Maria Lamberti