Travelinformation by Rosa Maria Lamberti

Nostalgic Flights above magical Lake Como

Cari amici, dear Lake Como friends!
When you are on holiday on Lake Como you may hear a sound, sonorous humming, that you can't classify. This noise is caused by nostalgic waterplanes, flying roundtrips on Lake Como.
Fascinating Views of Lake Como
Allora amici, how about to fly with one of these oldtimers into the blue sky above the Lario?
It is an overwhelming feeling to circle like an eagle over the marvelous Seascape with its majestic mountains and the picturesque villages.

You will feel happy and free up there, and in a double sense you'll have a distance from the earth with all its rules. The fantastic views from the bird's eye view will accompany you for a lifetime.
Contact the Aero Club Como for this special holiday experience in airy heights.
The History of Aero Club Como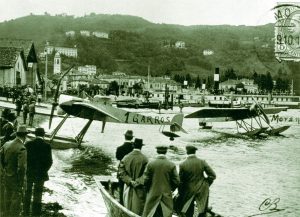 It is hard to believe that the first Gran Premio dei Laghi, one of the first water flying competitions worldwide, was held on Lake Como more than 100 years ago, on the 5th of October 1913.
In 1930 the Aero Club Como was founded and a hangar and a water aerodrome were built in Como and soon a lively air traffic developed.
The Aero Club Como Today
Today the Aero Club Como is the oldest float plane company in the world, which trains pilots for this special kind of flying.
Together with an experienced flight instructor you can also learn to start and land on the water, and of course to fly, even if you do not want to make a pilot's ticket momentarily. The costs for the tours and trial courses can be obtained directly from the Aero Club Como.
Good flight and happy landing to everyone, flying with waterplanes.
Tanti saluti e a presto
Rosa Maria Lamberti