Travelinformation by Rosa Maria Lamberti
Wonderful Views on Lake Como

Ciao amici! In no case you should fail to view the breathtaking panorama of Lake Como from above. The spectacular mountain-scenery, the picturesque villages looking like toys from above, the sparkling Lake in the depth, the play of light and colors and the unendingly wideness are an unforgettable visual and emotional experience.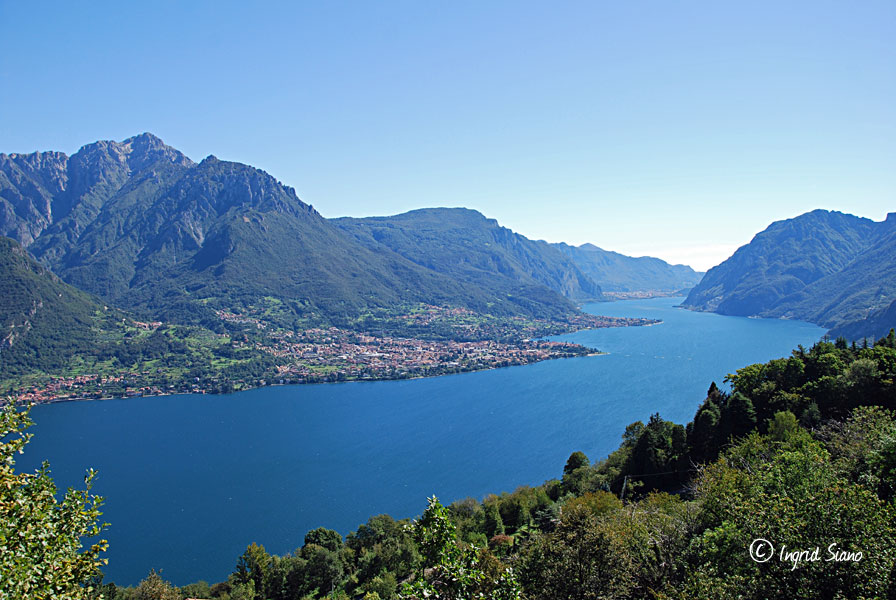 You belong to the no-mountaineers and no-summiteers? Don't worry. You must not dispense with these wonderful impressions. From several villages around Lake Como mountain railways drive on to the surrounding peaks. Most popular is the funicular from Como to Brunate, which was already inaugurated on 11th of November 1894.
A plastic cable with a length of 1220 meters, with 150 twisted steel wires, pulls the 2 cabins in about 7 minutes up to the beautiful, well-wooded plateau of Brunate. The cabins are named Como and Brunate and each has a capacity of 80 people in all. Because of the gorgeous location the high plain of Brunate is also named the "Balcony of the Alps".
A
promenade will lead you to the beacon "Faro Voltiano" built in 1927 on the occasion of the 100th anniversary of Alessandro Volta's death.
Up there arises another most impressive panorama on Como and its surroundings.
Two more spectacular viewpoints reachable by ropeways are the Belvedere di Pigra, above the small village of Argegno, and Piani d'Erna, in the mountains of Lecco.
Try it out, amici. It's an unforgettable experience.
Tanti saluti e a presto
Rosa Maria Lamberti