Route for walking by Rosa Maria Lamberti
The Greenway – from Colonno to Cadenabbia on Lake Como

Andiamo amici! Get your sturdy shoes on and let's go to the Greenway on the west bank of Lake Como. Whether you are a sporty hiker or an unhurried walker, the Greenway is suitable for everyone.
On the Greenway from Colonno to Cadenabbia
For the entire route of 10,5 km, which leads from Colonno to Cadenabbia, it takes approximately 4 hours. But you can also subdivide the route into several sections.
The Greenway starts in the historic center of Colonno and leads you first to Sala Comacina.

From there you walk on to Ossuccio, Lenno and from Tremezzo to Cadenabbia.
The Greenway ends at the Lido of Cadenabbia. But you can walk along the lakeside as far as Menaggio.
A Hiking Trail for Everyone
You'll have no exhausting ascents on the Greenway. It leads you partly along the lakeside on the antique Strada Regina, but also through the narrow alleyways in picturesque villages.
You'll wander through shady olive groves, past historic villas and their beautiful gardens and enjoy the magical views of Lake Como and the majestic mountains.
Always Pay Attention to the Signs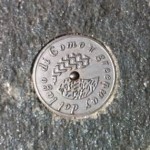 Blue signs with the yellow label "greenway del lago" show you the right direction.

In addition round Greenway logos out of metal are embedded in the pavement.
Do Not Forget to Take a Break
Don't hesitate to take a rest during your walk. There are several opportunities to get a delicious gelato, an espresso or a glass of Vino – or two.
For your way back I recommend the water route. No, please don't swim – take one of the boats 😉
My advice:
For more information about the Greenway del Lago on the west bank and the Greenway dei Patriarchi on the east bank, visit the tourist offices on Lake Como.
Tanti saluti e a presto
Rosa Maria Lamberti