Travelinformation/Tips by Rosa Maria Lamberti
Sentiero del Viandante on Lake Como

Ciao amici, autumn with its mild temperatures is a good time to hike on Lake Como. So I have a tip today for the keen hikers among you: the Sentiero del Viandante.

Pay Attention to the Signs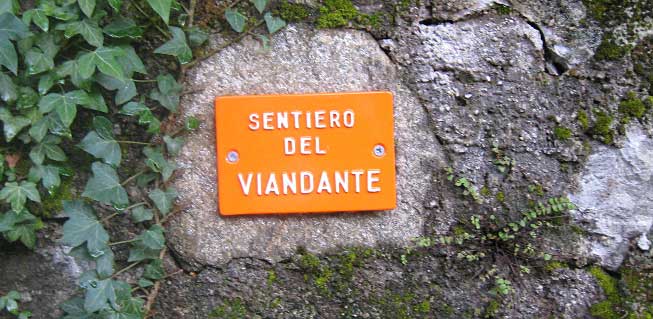 The trail begins In Abbadia Lariana on the eastern shore of Lake Como, near the Church of S. Martino and ends in Colico. The walk is well marked with orange-white signs "Sentiero del Viandante".
Of course this distance can only be hiked in several stages.
Previously a trade route, today a hiking trail
The ancient trade route connects the towns on the east bank, takes you past a lot of things worth seeing and offers breathtaking views onto Lake Como and the opposite shore.
With a little fantasy one can imagine how difficult it was in ancient times for the merchants, traders and farmers to transport their goods on this path.
Today it is much easier for us to ramble along the Sentiero with our functional backpacks and hiking boots with shock-absorbing soles.
Allora amici, andiamo! Hit the road.
Tanti saluti e a presto
Rosa Maria Lamberti