Culture by Rosa Maria Lamberti
Alessandro Manzoni, Lecco and Lake Como

Cari amici, dear Lake Como friends! Lake Como was not only at all times a romantic travel-destination for poets like Stendhal, Mark Twain and Flaubert but also birthplace and habitation for many celebrities.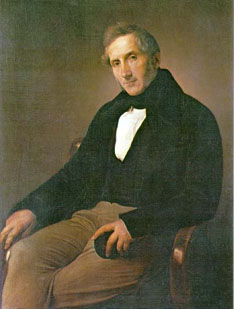 For example the city of Lecco on Lake Como is closely connected to the life and work of the famous Italian writer Alessandro Francesco Tommaso Manzoni (1785-1873).
The plot of his famous novel, the romantic love story I Promessi Sposi, in English The Betrothed, is set in Lecco on lake Como and the surrounding area.
Very interesting sightseeing tours are organized on the weekends in spring and summer to Manzoni's places of residence and to the authentic locations of his historical romance novel in Lecco.
Inter alia you can visit the so-called Caleotto, the residence of Alessandro Manzoni in Lecco until 1818 when he sold it.
Today you find the Manzoni Museum in this building which was built in the Classicism and late Baroque.
The Betrothed and the Lucia from Lake Como
The tour leads you also to the house of Lucia, one of the main characters of Manzoni's novel. Lasting memories of his protagonist are to date the typical Lake Como boats, named Lucia, each equipped with a kind of canopy. In Alessandro Manzoni's novel Lucia hides under the tarp when she flees with her fiancé Renzo in such a boat.
Through the help of the Lucia boats the poet and the two main characters of his historical novel "The Betrothed", remain inseparably united with Lecco and Lake Como.
Novel-locations on Lake Como
Some more important and authentic locations of the historical romance novel are also still preserved and can be visited.
For example:
Castle Innominato in Chiuso

Capuchin monastery Fra 'Cristoforo Pescarenico

the Church of Don Abbondio in Olate 

the palace of Don Rodrigo
So, how about it, amici? Do you feel like learning more about Alessandro Manzoni, the famous writer from Lake Como and do you want to follow the romantic marks of Lucia and Renzo? Okay, let's go! See you in Lecco.
Tanti saluti e a presto
Rosa Maria Lamberti