Events by Rosa Maria Lamberti

Alaskan Malamute Sleddogs from Around the World Meet on Lake Como

Cari amici, dear Lake Como friends, winter sports enthusiasts and dog lovers: It's that time again. In Casargo (LC), on the Alpe Giumello above Lake Como, Alaskan Malamute Sleddogs and their owners from all over the world will meet from 18. January 2019 to 20. January 2019.
The Sleddogs Celebrate an Anniversary
This year the organizers and the mushers with their four-legged friends can look forward to a proud anniversary. The Alaskan Malamute Sleddog event takes place for the 15th time. It was founded 15 years ago only on a trial basis, but after a few years it had already exceeded the expectations of its honorary initiators.
This event, which is unusual for Lake Como and takes place in one of the most fascinating landscapes in Europe, is certainly worth seeing. For the participants and the organizers, Alaskan Malamute Sleddogs and the Sleddog competitions are a real passion.
This passion, the beautiful landscape and of course the wonderful dogs create a very special atmosphere.
Activities for young and old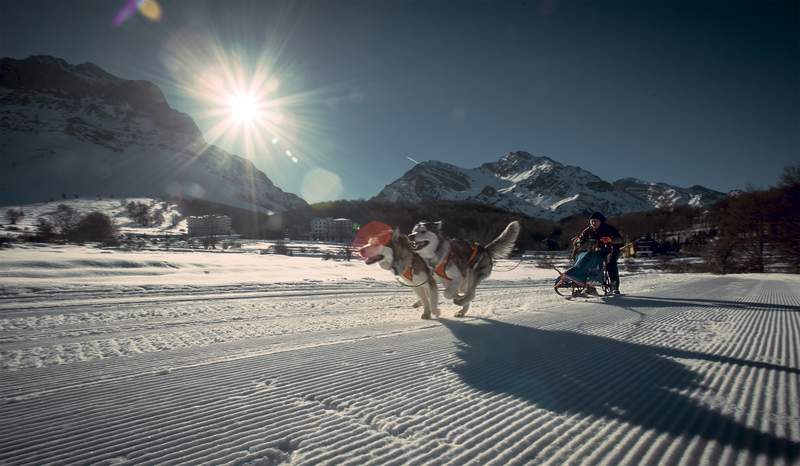 Participants and spectators will be offered an interesting program. The slopes are open on the days of the event from 9.00 a.m. to approx. 5.00 p.m. and offer opportunities for sledging or hiking in the snow, with or without a dog, outside the competitions.
On Friday, 18. January 2019 sleddog rides for children are offered.

In addition, interested dog lovers can inform themselves about the Alskan Malamute Sleddogs. There will be corresponding lectures.
The Program
Friday, 18. January, 2019
9.00 a.m. Opening. Afterwards the slopes can be used for Sleddog Trekking or hiking with the dogs

10.00 a.m. Lesson for and about the dogs. Sledge dog tour for the children

5.00 p.m. Slopes are closed

6.00 p.m. Happy Hour

8.00 p.m. Dinner at Albergo Alpino (by reservation only)
Saturday, 19. January 2019
9.00 a.m. Inscription and opening of the slopes. Start of the competitions

10.30 a.m. Triathlon competition. Only by prior booking, maximum 30 participants

12.30 Lunch

2.30 p.m. Dog Trekking

4.30 p.m. Closing of the slopes

7.00 p.m. Presentation of films and photos from the Malamute Sleddog Days of the past 15 years

8.00 p.m. Dinner
Sunday, 20. January
9.00 a.m. Inscription and opening of the slopes. Start of sporting activities and start of the VIII. Winter Winner Technical Meeting

11.00 a.m. Departure for the Dog Trekking Tour

12.00 (at noon) Inscription and secretariat is closed

 

2.00 p.m. Lunch

5.00 p.m. Closing ceremony
Well amici, how about a weekend at Alpe Giumello? The Alaskan Malamute Sleddogs and their mushers will inspire you.
Tanti saluti e a presto
Rosa Maria Lamberti