Travelinformation by Rosa Maria Lamberti
The Sacred Mountain of Ossuccio on Lake Como

Ciao amici, dear Lake Como friends, autumn is a great time for hiking on Lake Como.
You will find an easy, very special and spiritual trail above Ossuccio, on the west bank of the Lario. This is the Sacro Monte di Ossuccio, the Sacred Mountain of Ossuccio.
The steadily increasing path leads you past 14 chapels through shaded olive groves and offers you magnificent views of Lake Como and the mountains. The path and the chapels blend harmoniously into the landscape.
The Sacro Monte di Ossuccio is one of the Northern Italian Sacri Monti in Lombardy and Piedmont, declared as a World Heritage by UNESCO in 2003.
14 Chapels on Lake Como
The 14 chapels lining the hiking or pilgrimage route offer you the opportunity to have a spiritual retreat. Historically interested hikers and art lovers will also be enthused.
These chapels were built between 1635 and 1719, mainly in the Baroque style. Elegantly curved arcades on slender columns create a connection between the landscape and the individual buildings.
Frescoes decorate the inside of the chapels. Some of them can be dedicated to the artists Carlo Gaffuri, Innocenzo Torriani and Gian Paolo Recchi.
More than 200 life-sized statues, created by the artists Agostini Silva, show scenes of the mysteries of the Rosary. The very lively figures were predominantly made of terracotta or gypsum. They are dressed in the style of the past, just as it was fashion on Lake Como.
The End of the Path
At the end of the path besides a fantastic panorama the church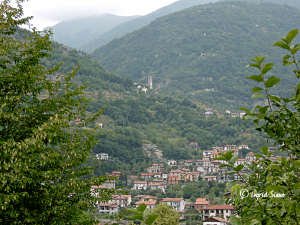 Madonna del Soccorso awaits you. Here, at the 400-meter high "end of the line" the work on the Sacred Mountain began in1635. In 1637 the pilgrimage church was completed.
The main altar with the magnificent representation of the Coronation of the Virgin Mary is the last scene of the pilgrimage.

Cari amici, in autumn the nature gradually comes to rest and we should also try to pause after the turbulent summertime.
I believe the Sacred Mountain of Ossuccio is a place where this can succeed.
Allora, put on the hiking shoes, do not forgot water and food, and set off.
I was there and I loved it.
Tanti saluti e a presto
Rosa Maria Lamberti