Travelinformation by Rosa Maria Lamberti
Fiumelatte – the Special River on wonderful Lake Como

Cari amici, dear Lake Como friends! Amidst all the miracles of nature that Lake Como has in store for us is a special river near Varenna. You should definitely take a closer look at this stream.
The raging, milk-white foaming Fiumelatte, the milk flow rushes from spring to autumn right through a small town also named Fiumelatte.
Short, Steep and Wild
In addition to its milk-white bubbling water, the Fiumelatte has a few more, very special attributes! At only 250 meters from the source to its mouth on the eastern shore of Lake Como, it has been considered as the shortest river in Italy.
On this short stretch the Fiumelatte falls with a gradient of about 35% down the mountain, roaring past the narrow houses of the village and blusters under an old iron bridge.
Of course, if it does not rain for a longer time in summer, the amount of water will naturally decrease and the river is not quite as wild anymore.
Coming and Going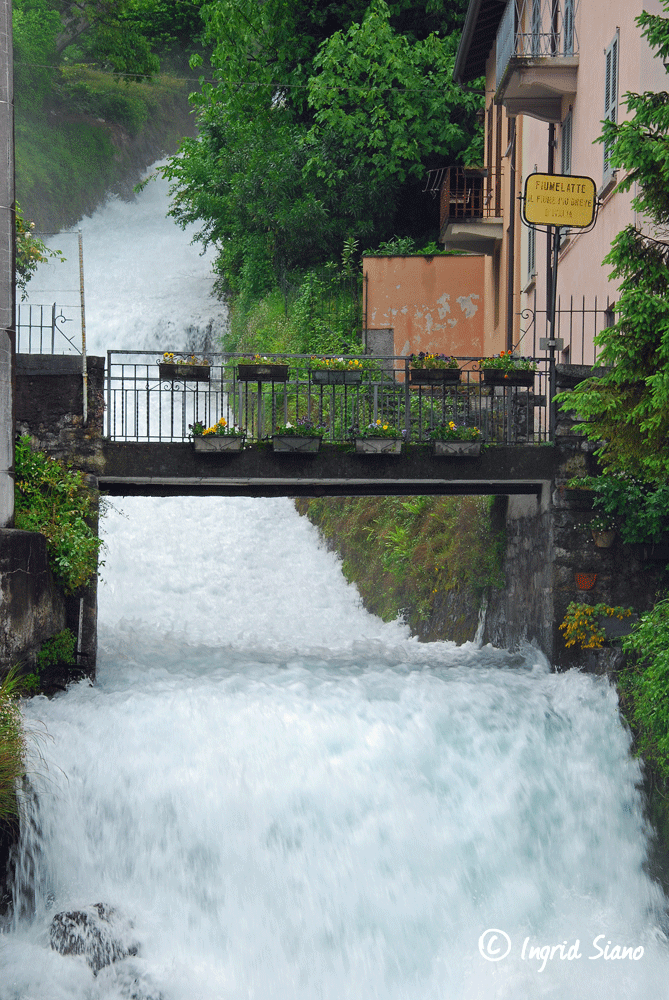 The Fiumelatte begins to bubble around 25th of March, at the Annunciation, and disappears as if by magic around 7th of October, the day of Madonna del Rosario, known as the patroness of Varenna. Therefore, the Fiumelatte was popularly also named Madonna River.
Scientists explain the periodic appearance and disappearance of the river as being the overflow of an underground lake located below the mountains.
Even Leonardo da Vinci was so fascinated by the phenomenon that he described it in his famous codice Atlantico.
How to Find the Fiumelatte
The Fiumelatte flows below the waterfront of the Fiumelatte village into the Lake of Como. To get to the source, you have to climb up numerous steps. Then the route goes uphill.
On the way you can enjoy the splendid view of the Lario. 
Close to the source is the lookout point Baluardo, which offers other fantastic panoramic views. You can also reach the Fiumelatte on foot from Varenna and Castello di Vezio.
The trail Sentiero del Viandante which leads from Abbadia Lariana via Varenna to Colico, brings you as well to the milk river. You just have to follow the signs.
An Enchanting Legend
A charming legend is told about this unique river on Lake Como: Once the Virgin Mary has washed the diapers of her baby Jesus in the bubbling, milk-white water of the Fiumelatte. Of course, they were spotless white and fresh like blossoms!
Allora amici, the Corona pandemic is not yet defeated and we must all continue to be patient. But as soon as it will be possible, we should plan a vacation on Lake Como and a trip to Fiumelatte with its milk-white water.
I am already looking forward to it!
Tanti saluti e a presto
Rosa Maria Lamberti